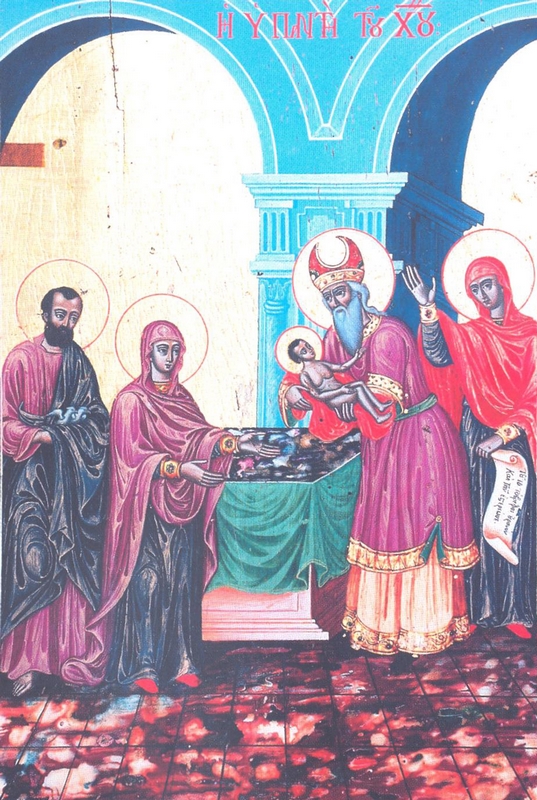 THE CANDLEMAS OF CHRIST

Item ID : 258
Collection Name : Holy Metropolis of Servion and Kozani
Type : Architrave icon
Year : c.1808 AD
Place : Kozani
Τechnique : Egg tempera on wood
Description : The composition of the Candlemas of Christ, is depicted well weighed and with harmony, occupies the central part of the icon, leaving the first level to the crimson tiled floor to contrast the whole iconic stylization of the theme. A pale blue color, double vaulted arc, is painted in the background, symbolically indicating the inside of a church.
In line with the composition the naked Christ Child is depicted in the arms of St. Symeon the God-Receiver, which is luxuriously dressed and ready to deliver Him to his mother, which awaits opposite with her outstretched. Among them is the Holy Table covered with green fabric. Behind the High priest St. Symeon, the Prophetess Anna is depicted in full length, with her right hand raised, while with her left hand she is holding an unrolled scroll. St. Joseph is represented behind the Virgin holding a pair of doves.
Stylistically the icon is affiliated to the hagiographer of the "Good Samaritan," (p.12) and "The Blind Sunday Sermon,(P.150) icons which are located also in the architrave (Epistilio).