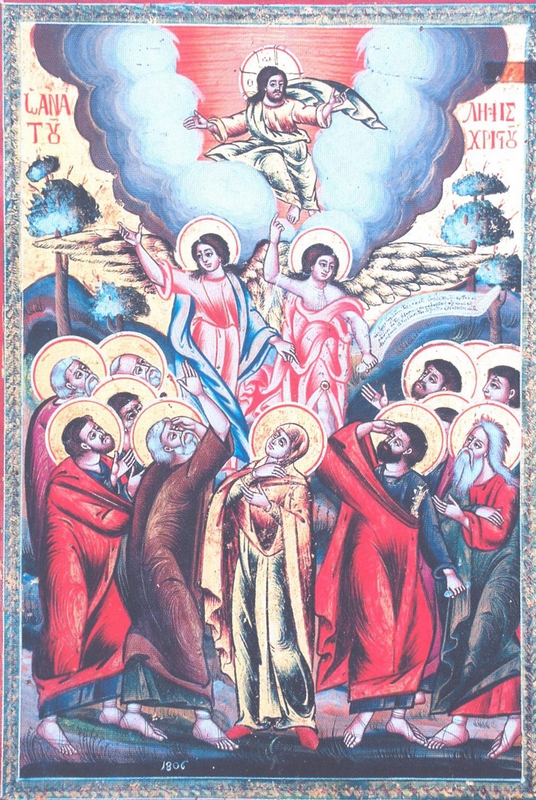 THE ASCENSION OF CHRIST

Item ID : 255
Collection Name : Holy Metropolis of Servion and Kozani
Type : Architrave icon
Year : c.1806 AD
Place : Kozani
Τechnique : Egg tempera on wood
Description : The picture is dated in white letters on lower left side of the icon, close to the frame. The theme of the Ascension of Christ in the particular icon iconographic scheme was made according to the instructions of Dionysius of Fourna, and in which elements of Byzantine and Western art has been blended.
In the first level of icon the twelve apostles are depicted in two groups, flanking the Virgin. The characteristic movements of some of the Apostles on left side responds to icons of the same subject of the 17th century taken mostly from Northern Greece. This arrangement is is closer to the Byzantine tradition, although the Byzantine iconographic elements of the "glory" that surrounds Jesus and his priestly frontal attitude has been replaced by western influence elements. Thus, Jesus is depicted with outstretched hands, emerging within a pale pink light, flanked by a huge semicircular cloud, rising up to the heavens. Between the two main parts of the composition mediated by two angels who stand upright with golden wings opened, pale-red chitons presenting Jesus that appears from heaven.
The landscape is indicated by the green chestnut color ground on which tread the apostles, with sparse tufts of grass sprout from it and the hills behind the apostles with few trees.
In the upper part of the image the background is attributed in gold o as to contrast earth and heaven, where Christ is undertaken.
The image frame is defined by three parallel strips. The outer two are bright red and are separated by white line, while the inner strip is yellow-green, painted in a way that represents marble, and is defined by a white line inside.