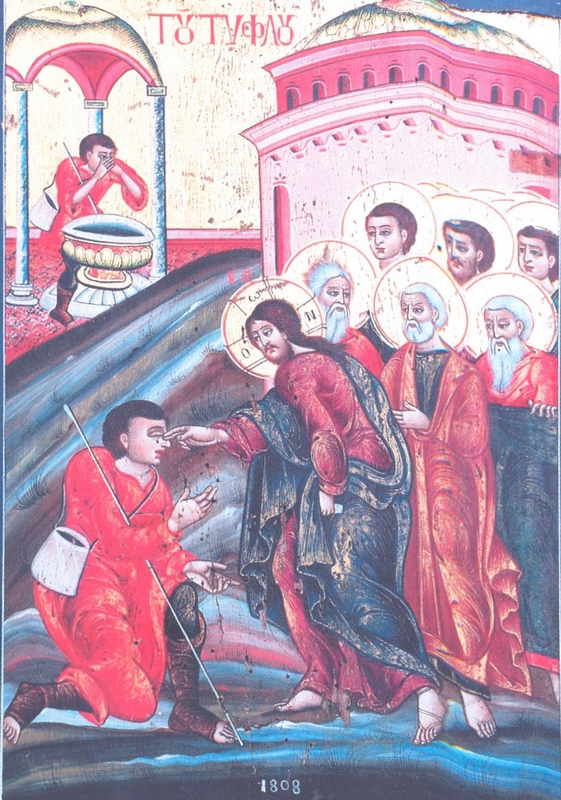 THE SUNDAY OF THE BLIND MAN (Sermon)

Item ID : 254
Collection Name : Holy Metropolis of Servion and Kozani
Type : Architrave icon
Year : c.1808 AD
Place : Kozani
Τechnique : Egg tempera on wood
Description : The icon dated - the date is written in the middle of the underside near the frame, with white paint, and has as a theme the of healing the blind by Christ. The topic has been attributed to a hilly landscape, at the top of which is a massive circular structure is built in two levels, housed in a dome with many windows. At the bottom of the icon on the right side, stands the group of Christ followers in dense formation.
Jesus is illustrated in front of all, slightly leaning his body, smearing with mud the eyes of the blind man who is depicted knelling in front of Him. In the top left corner is shown on a smaller scale, a second stage in which the blind man washes his eyes in font roofed with ciborium (baptistery). This is the miracle of Christ outside of Jericho, which describes the Evangelist Mark.
The representation of the scene was done according to the instructions given by the monk Dionysius from Fourna. Realistic details characterize the performance of the blind, such as his old clothing, his rummage shoes that leaves his toes bare, hi open vessel for begging that is hanging on his back and stick that facilitates his walking.
Near the upper frame is written in gold background with red letters the inscription: THE BLIND MAN implying the word SUNDAY.
As the picture frame has two bands in shades of blue , while the inner set of white lines. Traces to afford the third dimension and depth in the composition, either by using a smaller scale for the scenes in depth or by arrangement of the figures in successive rows that are completed by traces halos .