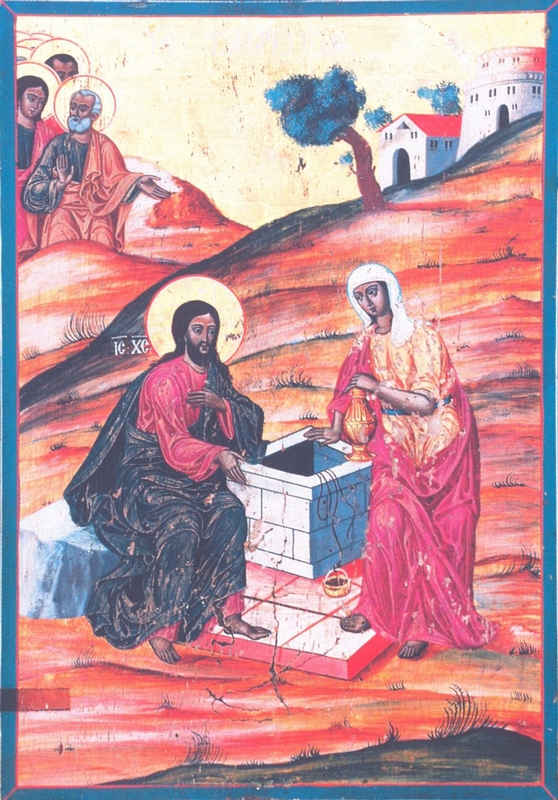 THE GOOD SAMARITAN (CHRIST AND THE WOMAN FROM SAMARIA)

Item ID : 253
Collection Name : Holy Metropolis of Servion and Kozani
Type : Architrave icon
Year : c.1808 AD
Place : Kozani
Τechnique : Egg tempera on wood
Description : The scene illustrates the episode narrated in the Gospel of John (5:5-40), and known in its developed iconographic form from the wall painting of Theofanes the Cretan, and can be found in several monasteries in Mount Athos area.
Christ sits in the middle of the composition in a rather barren landscape, and in front of a rectangular well with a step.
He stretches out his right hand toward the Samaritan woman, who stands in front of him at the other side of the well holding an ornate metal jug.
At a higher level of the main scene and on the right side, the Apostles are depicted behind the crevices in the rocks. At the top left on the right two schematically rendered building are depicter on a rather sloped area.
Located near the upper frame the inscription:THC ΣAMAREITIΔOC is written in white letters .The picture frame is covered in two bands, one black and one gray-blue.
Based on the standard stylization and traditional rendition of the particular thematic disposition that can be found in the Central Macedonia, a variety in the details an be attested I this icon.
A characteristic example of the differentiation of the theme is the icon that can be seen at the Saint George church in Kolindrou village, of which even the icon it is a work of the same atelier it follows a totally different iconographic type, complying though with the same iconographic elements.