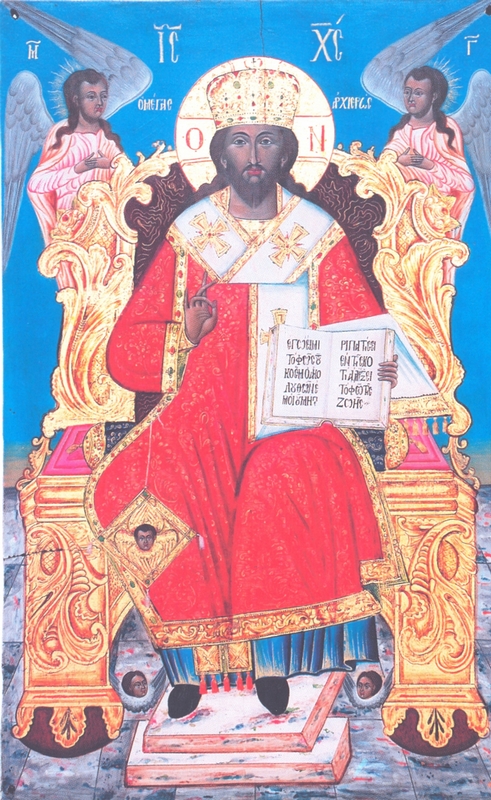 CHRIST AS THE "GREAT HIGH PRIEST"

Item ID : 252
Collection Name : Holy Metropolis of Servion and Kozani
Type : Despotic Icon
Year : c.1808 AD
Place : Kozani
Τechnique : Egg tempera on wood
Description : The icon is gracing the wooden throne with carved decoration project similar to the sanctuary temple. The particular thematic disposition is established as decoration for the episcopal thrones. In the composition of the icon, on the dark blue background is dominated by the large throne, with high backrest and a pink seat with dark blue cylindrical pillow that copies earlier works of the second half of the 17th century. Christ, is depicted full length seated on the throne wearing Episcopal vestments and flanked by two angels, on a smaller scale depicted in bust length and wings in motion.
These are the Archangels Michael and Gabriel, as indicated by the initials inscribed in gold majuscules next to them. They are wearing pink tunics and have their hands crossed on there chest.
Christ with precious vestments He is sitting in the throne having his right hand in a blessing attitude, having his hand before the breast, while with his left he supports on his thigh an open Gospel. Close to his feet resting on a footstool with two marble steps , see two heads of small winged angels. The floor of the space in which the throne is slated. Surround his head, a gold halo in incised bearing the mono-grammatic inscription on both sides O/ ΩΝ defined by the red line. On the blue background of the icon the letters: IC-XC / THE GREAT - ARCHIEREAS, are written in gold majuscules.
The stylistic representation of the theme can be identified with similar thematic icons in the islands during the 18nth century, where the baroque elements in both the stylization and technique are evident.
Most probably the icon is a work of the same artist who has painted the rest of the Despotic icons.