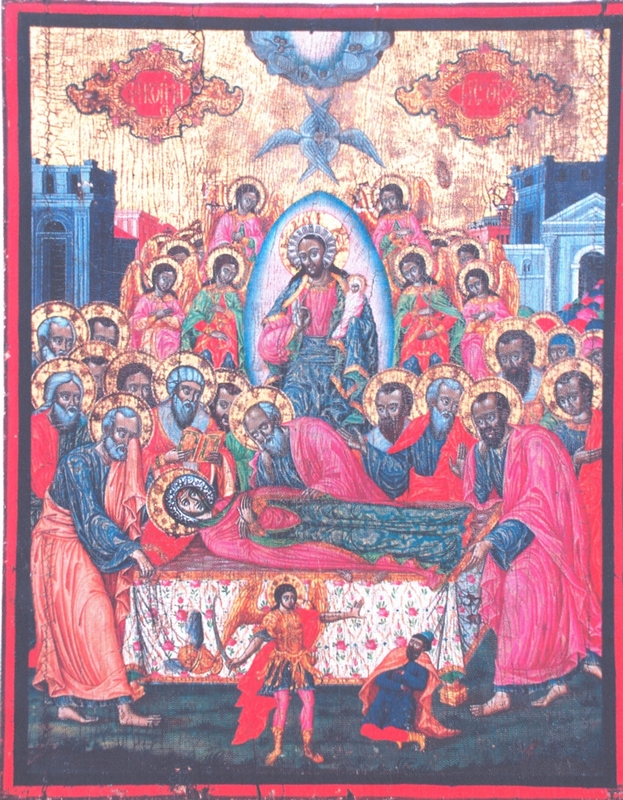 THE DORMITION OF VIRGIN MARY

Item ID : 251
Collection Name : Holy Metropolis of Servion and Kozani
Type : Despotic Icon
Year : c.1808 AD
Place : Kozani
Τechnique : Egg tempera on wood
Description : The icon of the Virgin Mary,is predominantly the icon that follows the traditional iconographic type that dominates the late-Byzantine and post-Byzantine times.
Centrally located and flanked by the Apostles, Virgin Mary is lying in her deathbed having her head leaning slightly to the left side.
At a second level, the Christ within "glory" of white clouds, he depicted blessing with his right hand while with left hand holds the soul of the Virgin Mary represented by an infant swaddling in white clothes. He is flanked by a group of Angels poised in different levels, turning towards Him, while some of them are holding their scepter.
Winged cherubs hovering among the top of the "glory" and semicircular grayish clouds, symbolizing open heavens waiting to receive the Virgin.
In the background on the side of the tent frame buildings are schematically rendered. Before the deathbed, that is adorned with a white shroud and embellished by red flowers depicted on a smaller scale, the scene with the angel who has cut his hands of the man named Iefonias because he dared to grub the Virgins deathbed.
prevailing realism and expression of emotions are the main characteristics of the icon. Grief dominates denoted by the pictorial execution both the movements and posture of the people around Her. This is obvious also by the the slight inclination of the head of the angels, the Apostles, and of Christ, facial expression.

Exemplifies the form of Peter lying on the head of Mary and illustrated wiping his tears with a garment , while with his right hand swings the censer. More moderate the Apostle John is preparing to worship the relic and is suffering with his eyes closed.
Contrast creates the serene form of dead Lady with her head resting on a red cylindrical pillow while visible wrinkles indicate the passage of time.
An Angel, wearing military uniform, is standing facing Iefonia. He rests firmly on his legs outstretched, holding a sword in his raised right hand while the left tends to be prohibitively Iefoni , who with thick hair and beard is on his knees with his hands crossed on chest and looking awestruck. He wears red pants with high shoes, dark blue coat , yellow jacket , buttoned chest and small blue cylindrical cap.
The painting of the icon can be ascribed as a work of the same atelier, but from a different painter.