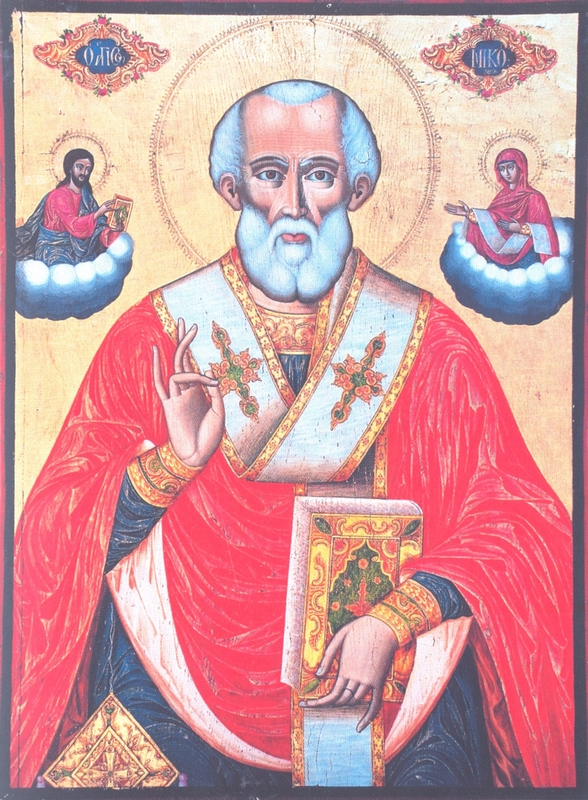 SAINT NICHOLAS

Item ID : 250
Collection Name : Holy Metropolis of Servion and Kozani
Type : Despotic Icon
Year : c.1808 AD
Place : Kozani
Τechnique : Egg tempera on wood
Description : Saint Nicholas is depicted in a bust form against a gold background. The rendition of the iconography style, follows the Byzantine type of depicting the figures of Byzantine Saints represented in bust length.
The Saint has white short hair and beard, his facial expression express calmness. He is blessing with his right hand while holding a closed Gospel book with his left. He is clad in full Episcopal vestments rendered with vivid colors.
On each side of him, through white clouds, Virgin Mary is depicted on his left side holding a white "omophorio," (chasuble), and on his right side Christ is depicted offering him a closed Gospel book.
On the top corners of the panels in motifs of Western type panels and decorated with in baroque style the Saints name is written within.
The iconography has great similarities in the technique and one can affiliate the stylization of the icon to the same painter that panted the icon of Saint Nicholas enthroned and which can be found in the church of Saint George in the village Kolidrou, Pierias.