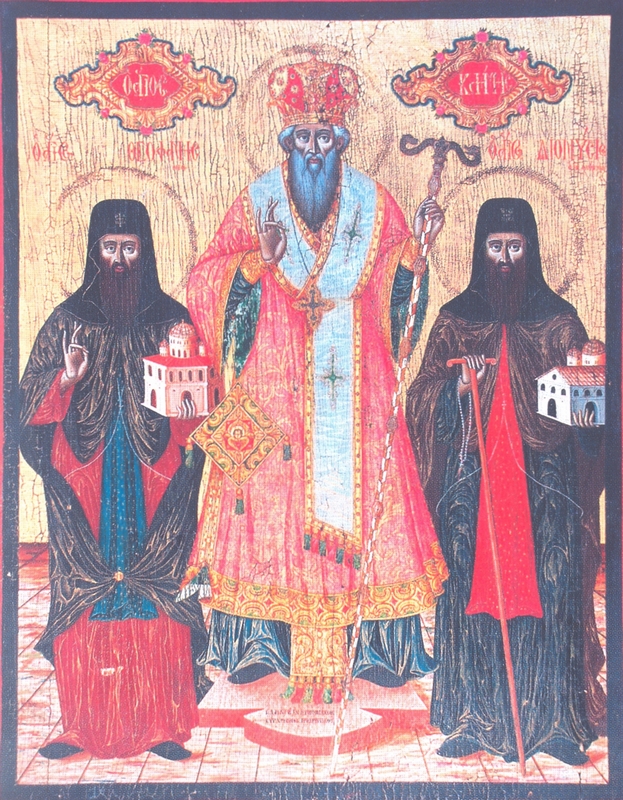 SAINTS THEOFANIS, KLIMIS THE NEW AND DIONISIOS FROM OLYMPUS MOUNT

Item ID : 249
Collection Name : Holy Metropolis of Servion and Kozani
Type : Despotic Icon
Year : c.1808 AD
Place : Kozani
Τechnique : Egg tempera on wood
Απόκτηση : αφιέρωμα μοναχού της γνωστής μονής του Προδρόμου στη Βέροια
Description : This icon is a donation from a monk from the well known monastery of Prodromos in Veria according to an inscription preserved on the podium, where St. Klimis is standing.
The three saints, are depicted full length and frontal facing standing on pedestals.
Saint Klimis is centrally located, wearing Episcopal vestments, blessing with his right hand, while holding the episcopal baton with his left. He is flanked by two high ranked monks Saint Klimis and Saint Dionisios holding models of the church s that have founded by them.
The three Saints are depicted against a gold background. The Saints halos are painted on golden background and bordered by two rows of inlaid circlet .
Saint Theophanis is clad in black with golden shadings felonio (chasuble), set up at the bottom buckle, red robe and blue "anavalo" ( a garment that denotes a high rank monk).
Same are the garments of Saint Dinonisios, but in a darker color and a red "anavalo."
Saint Dionisios blessing with his right hand while holding the modeled church with his left, and Saint Theofanis holds a church with his left hand and a scepter with his right.
There are three holy bishops named Klimis (Clement).
Probably the Saint Clement of this icon is ordained by the Apostle of the Slavs Methodius, Bishop of Bulgaria (9th century), who was buried in Ohrid and was well known in the area.
The identity of St. Theophanis is difficult to determine because there are two founders of monasteries this having the same name. One called and The confessor, founded in the 8th century a monastery near Cyzicus, while the second is the founder of the monastery of Barlaam in Meteor. St. Dionysius , who lived in the 16th century and became a monk on Mount Athos, for many years lived in Veria , from where he fled to Mount Olympus, where he founded the monastery of the Holy Trinity.