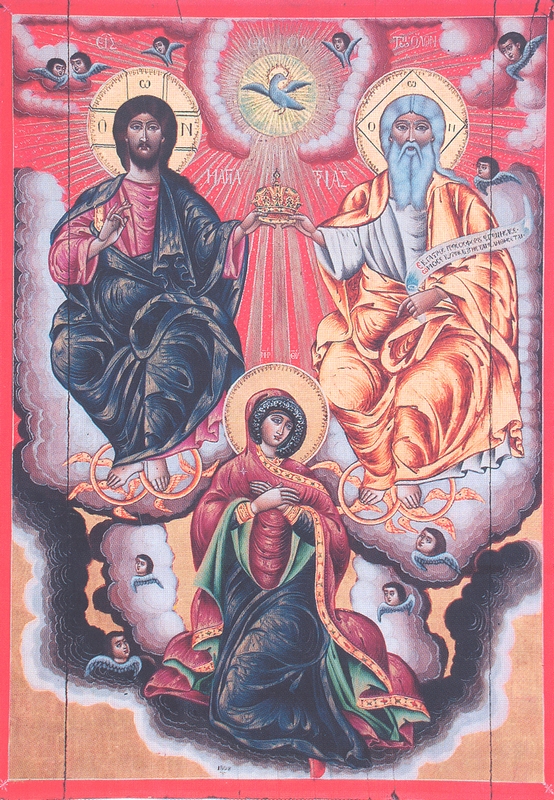 THE HOLY TRINITY

Item ID : 248
Collection Name : Holy Metropolis of Servion and Kozani
Type : Despotic Icon
Year : c.1808 AD
Place : Kozani
Τechnique : Egg tempera on wood
Description : This image is a composite of two iconographic subjects, the subject of the Holy Trinity and the subject of Coronation or "Apotheosis of the Virgin," following the Western stylistic standards derived from engravings.
The composition is accompanied by the inscriptions AGIA TRIAS (between the icons) and ΕΙΣ-ΘΕ-ΟΣ-ΤΩΝ ΟΛΩΝ, (under frame), while in the middle of the lower edge of over the red frame, bears the date 1808.
The icon is divided into two tiers: the upper level is Christ is illustrated in the type of "Pantokrator" (Almighty), while the Father is depicted on the right side of the icon, represented with white hair and beard. Among them and at the height of their heads, the Holy Spirit in the form of a dove is symbolically depicted.
Set in bright medal, surrounded by clouds from which rays are emitted, from right to left to indicate that the Holy Spirit proceeds from the Father, according to the Creed.

The Father and the Son are framed by schematically rendered clouds, and step onto two gold "wheels" while in between they are holding a jeweled gold crown, for the Virgin Mary, which she depicted in the lower half of the composition .
Christ halo is incised and bearing a Cross made within the halo and in its three arms the three letters indicating Ο/ΩΝ are inscribed in black majuscules. He wears a sleeved red tunic with gold clavus and dark blue robe with golden hues. His right hand is outstretched in a blessing position. The God Father,is clad with a shining white robe and golden yellow robe, holding in his right hand waving scroll, bearing an inscription in black.
Six angels in the form of winged child head emerging from the clouds, positioned in different levels and places. Unfurled clouds engulf the two figures that clicked on two golden wheels .
The pictorial execution of of the Virgin, attest a western type of iconography standards.
She is presented kneeling to the left , on a semicircular gray white cloud with her body posture in a rather unusual stance, frontal facing and having her head turned slightly to the rear while having her arms crossed on chest , in a gesture of supplication , unusual in the Orthodox tradition.
She wears a gold embroidered maphorion with pale green lining , blue tunic with golden highlights and is surrounded by four cherubs.
The iconography of the Holy Trinity can be found in in numerous projects in the post-Byzantine period , where various small details highlight the Orthodox assignments.