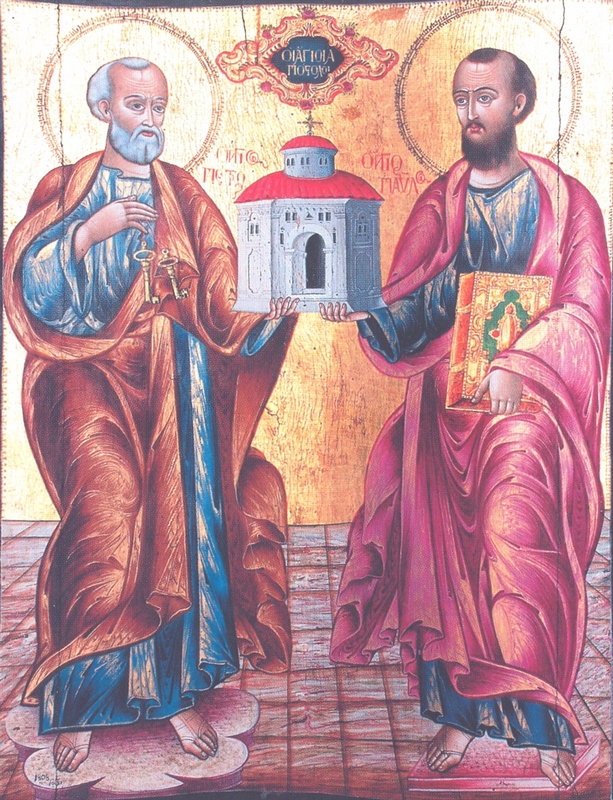 THE APOSTLES PETER AND PAUL

Item ID : 246
Collection Name : Holy Metropolis of Servion and Kozani
Type : Despotic Icon
Year : c.1808 AD
Place : Kozani
Τechnique : Egg tempera on wood
Description : The icon of the Saints is of particular interest as it is painted on a wooden panel with undulating surface and is exposed in the corner of the temple.
Against a gold background the Saints are depicted full length having their heads turning slightly towards each other. They are symbolically holding a church defining the fact that they are the founders of the Orthodox church. Withe their left hands they are holding the traditionally symbolic items that were established since the Proto-christianity period, for identification reasons.
For instance, Saint Peter holds two keys with his right hand, while Saint Paul holds a Gospel book. Both they are clad in sumptuous attire. The two apostles rest on pedestals, Saint Peter on a multi-lobed and Saint Paul on a parallelepiped.
The inscription 1808 / July , that has been written on the right foot in front Apostle Peter on the podium offers to the dating of the icon.
Above the roof of the temple appears in red letters the names SAINT /PETER and SAINT/PAUL, and just above the cross that crowns the dome of the temple in a lozenge pattern, a coiled floral frame with baroque decoration includes the inscription SAINTS/ APOSTLES, the inscription is written in gold letters on a blue background.
Tiled floor denotes the interior schematically rendered place of the scene.
The iconographic theme is well known in post-Byzantine painting from icons, engravings and frescoes, and its believed that is created by the Cretan painter Angelos Akotantos, on the occasion of the Council of Florence in 1439.
The picture is attributed to the painter of a second workshop, which must also own and icon Synaxis of the Twelve Apostles, belonging to the church of St. George Kolindrou, Pieria, where the representation of the two Apostles is absolutely identical.