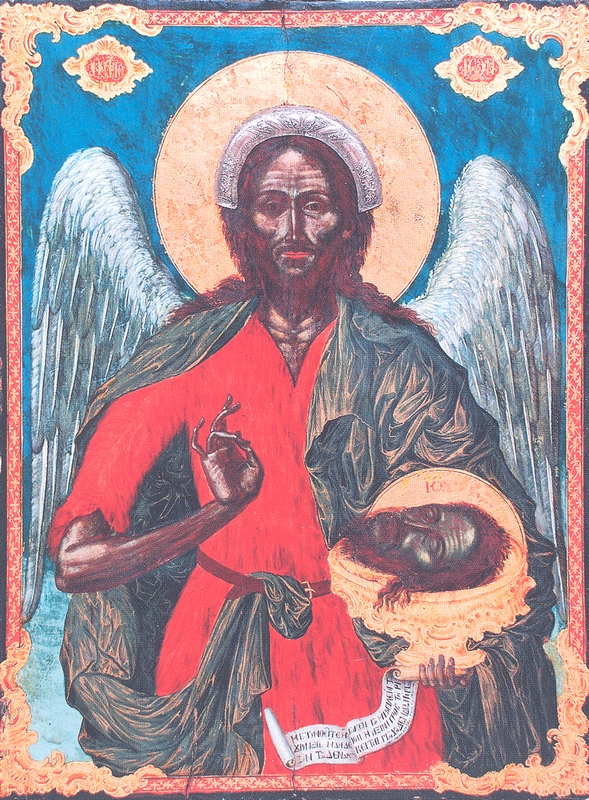 SAINT JOHN THE BAPTIST (PRODROMOS)

Item ID : 245
Collection Name : Holy Metropolis of Servion and Kozani
Type : Despotic Icon
Year : 19nth AD
Place : Kozani
Τechnique : Egg tempera on wood
Description : Saint John is depicted centrally, half length and in a frontal position facing the viewer. His right hand is extend into a blessing attitude, while with his left he supports a lap of a metal basin, with his severed head inside and bearing a golden halo. With his left hand he holds an open inscription written in black majescules bearing the words: "Repent of your sins and turn to God, for the Kingdom of Heaven is near."
His face is rendered with dark shadows, and his characteristics exhume his serene and solemn nature, with many dark brown shadows and pale green "hues," while the narrow lips are highlighted in bright red.
The Saints forehead is painted deep wrinkles, as in other contemporary works. Impressive is the ruddy leather belt and His large greenish wings rendered naturalistic, which show affiliation with themes of the same pictorial execution withe several icons of the early 19th century,county Thessaloniki.
Contrast causes luxurious himation with golden sheens, and whose end is fixed to the Saint s belt. The icon is portably a work of an atelier of of Mount Athos region.