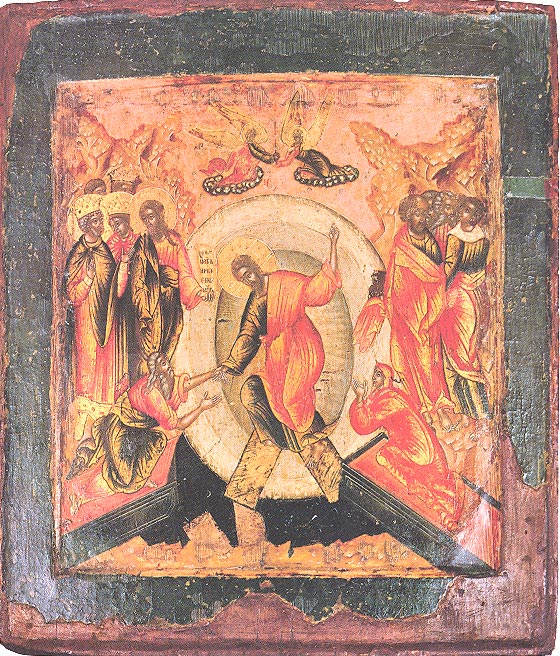 The Descent into Hell

Item ID : 239
Collection Name : Metropolis of Mytiline, Eressos and Plomari
Year : 17nth century
Dimension : 31 x 27cm
Conditions : Very good
Current Place : EPISCOPAL RESIDENCE COLLECTION
Description : Christ is depicted full length, clad in a shining red himation and a dark-brown chiton rich in gold striation. He is depicted in the centre of the scene, in a slightly inclining posture towards the left side of the panel. A grand elliptic mandorla in nuances of pale -white and emanating bright rays is depicted so as to engulf Christ body.
He stands upon broken Gates of Hell, depicted also as open sarcophagi and forming an X symbol.
He stoops to raise the kneeling Adam with his left hand. Adam is depicted in a deep bow position, kneeling in an upward rectangular inclining rock. Above him, a group of people in which, St John the Baptist-leading the group on the left-hand side- is holding an open scroll written with a Russian inscription, David, Solomon and two other Kings are depicted witnessing the miraculous and triumphant victory of Christ over death.
On the right hand side and behind the Christ feature, Eve is depicted in a kneeling position, extending her hands towards Christ, and in an attitude of prayer. Behind her an assembly of people is depicted.
Over Christ's head, two angels in shining garments and gold wings, bear the symbols of Passion.
The iconographic style and the theme artistic interpretation, suggests that's the icon is a craftsmanship of a Russian studio of the 17nth century.