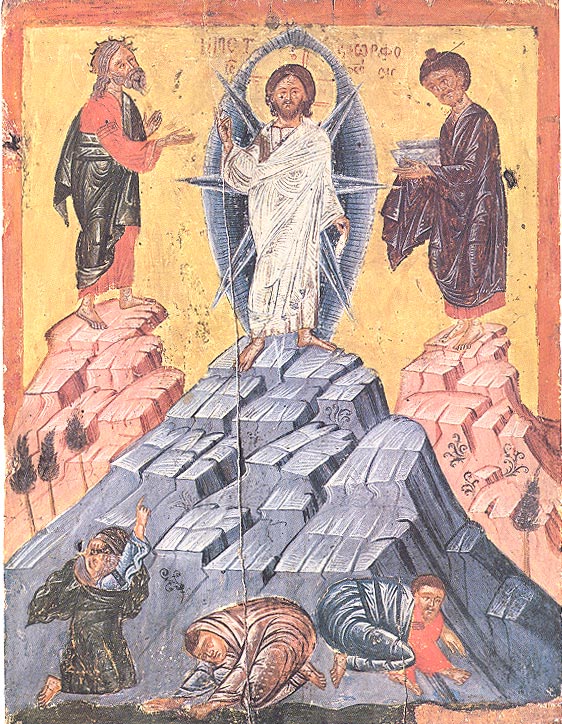 Transfiguration of Christ.

Item ID : 238
Collection Name : Metropolis of Mytiline, Eressos and Plomari
Year : 17nth century
Dimension : 41 x 31
Conditions : Very good
Current Place : EPISCOPAL RESIDENCE COLLECTION
Description : Chris is depicted full-length, in a standing position, and facing directly the viewer, against a gold background.
He is occupying the central axis of the painting in a vigorous pose. He is wearing shining-white garments and he is surrounded by an elliptic mandorla from which six rays in nuances of blue, emerges from the sides.
A golden incised halo surrounds his head, where the letters Ο ΩN (The One Who Is), can be observed. His right hand is raised in an attitude of blessing, while he is holding a closed scroll with his right.
He is standing on the peak of a deserted rocky mountain with sharp edges rendered in tone of grey. Flanked by him, standing on the top of two barren mountain peaks, painted in nuances of pink and narrower outlined, Prophet Elijah and Moses are depicted facing towards the Christ.
Prophet Elijah is depicted on a standing position, clad in a red chiton and a dark green himation highlighted with white streaks. His is turned to Christ, with both his arms extended in an attitude of prayer. Moses, on the right, holds the tablets of the Low in his hand, while the other is extended in an attitude of prayer.
The three Apostles are depicted on the lower side of the panel. They are struck with wonder, falling in the ground and all shown in emotional distress, over the divine manifestation.
The circled facial features, the way drapery is highlighted and the manner the landscape is rendered, adheres to a stylistic style than can be dated in the 17nth century.