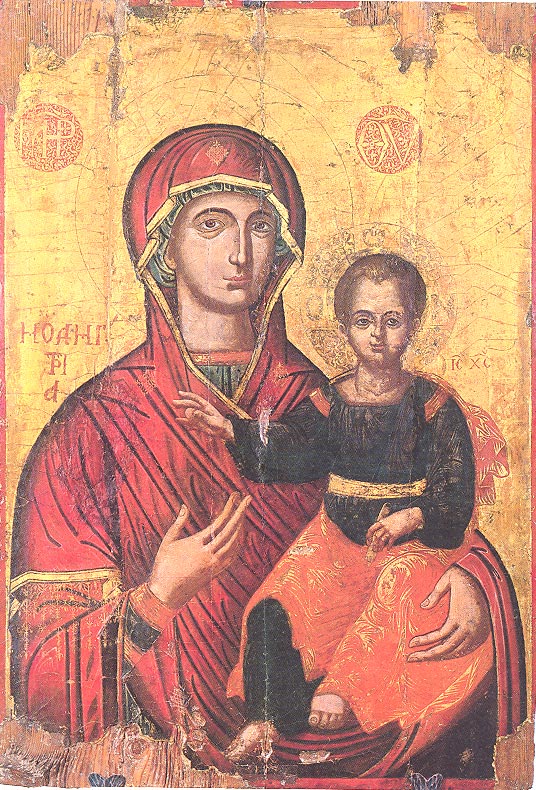 The Blessed Virgin 'Hodegetria'

Item ID : 237
Collection Name : Metropolis of Mytiline, Eressos and Plomari
Year : 17nth century
Dimension : 109 x 75cm
Conditions : Very good
Current Place : CHURCH OF THE DORMITION OF THE VIRGIN, DAMANDARI
Description : The Blessed Mary is depicted from the waist up, frontally facing. Her glaze is smooth and directed to the viewer. She is clad in a red maphorion, highlighted with darker red pleadings. The maphorion is bordered by a hem highlighted in gold color around the head and shoulders. She wears dark green chiton adorned in chrysography.
Virgin Mary motherly embraces Christ Child in her left arm, while she is pointing to him in a subtle gesture with her left. Her facial features express deep esotericism and kindness. Her nimbus is simply incised with a circle line. Next to her and above each shoulder, a red sphere, and richly decorated, the monogrammatic letters: ΜΡ ΘΥ, can be read respectively.
Christ Child is depicted full-length, frontally facing the viewer almost directly. He is glad with a very dark-green chiton with a gold embroidered belt around his waist, and a crimson red cloak richly decorated with god motifs and striations. His left hand is gently extended in an attitude of praying, while with his right he is holding a closed scroll. His face characteristics elude mystical and aesthetic moderation. His nimbus is outlined with an incised circle with elaborated foliate and coiled linings.
On the gold background and above his right shoulder, in red majuscules the letters: ΙC XC, are inscribed.
The iconographic type follows the traditional depiction of the Virgin Mary as in the 'Hodegetria" type, which was established in the 12nth century.
The stylistic and iconographic details of the particular icon, leads a dating in the 17nth century.