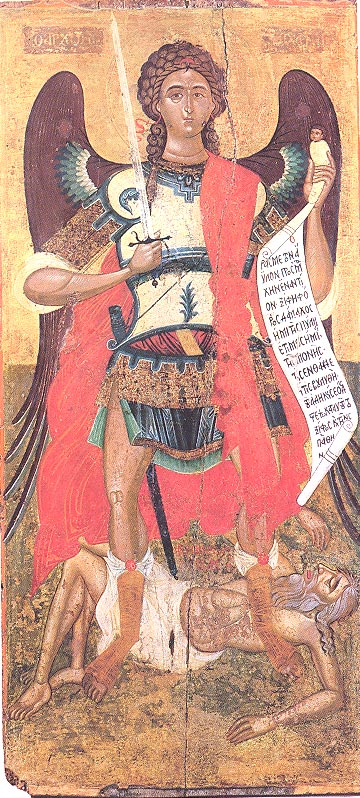 The Archangel Michael

Item ID : 236
Collection Name : Metropolis of Mytiline, Eressos and Plomari
Year : 17nth century
Dimension : 103 x 48cm
Conditions : Very good
Current Place : EPISCOPAL RESIDENCE COLLECTION
Description : The Archangel is depicted in an oblong panel. He is presented full-length, front facing and having his legs apart from each other. He is clad in a military uniform- a white breastplate decorated with geometric and flower motifs in hues of blue, a short blue tunic and a bright red cloak drapes his back.
An old man, lying dead on the ground is depicted just behind the saints' legs.
The saint has broad brown wings with fine feather details in harmonious colors. He holds a long sword in front of his right chest, the scabbard of which hangs beside his thigh. In his left, an infant wrapped in swaddling bands, representing the soul of the dead old man is painted.
On the same hand an unrolled scroll bearing the inscription: "YOU SEE ME THE IMMATERIA CHAMPION. SWORD-BEARING AND INVISIBLE, I AM READY AT THE GATE OF THE MONASTERY HERE AND WHOEVER WILL (?) HAS DONE WRONG (?) I TURN MY SWORD AND BLADE AGAINST HIM".
At the top side corners, above the saints' shoulders, the obscured inscription: "THE LEADER"- "MICHAEL", can be read.
The head of the saint is surrounded by long curly kempt hair, banded in red ribbon. His facial feature exudes dynamism, austerity and self-confidence.
The iconographic type and techniques employed in the aspiration of the icon, defies a master work that can be dated in the 17nth century.