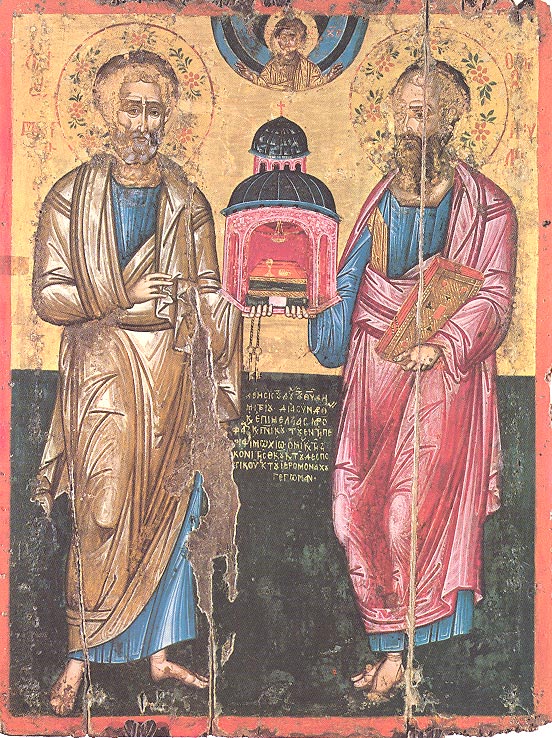 The Apostles Peter and Paul

Item ID : 230
Collection Name : Metropolis of Mytiline, Eressos and Plomari
Year : 17nth century
Dimension : 96Χ73,5Χ2,5
Conditions : Very good
Current Place : Church of the Holy Apostles, Mytilene
Description : The figure of the two Apostles is depicted full length, slightly turning to each other and facing indirectly to the viewer. They are presented against gold background at the upper side and a dark green on the lower side. They are holding a modeled church rendered in rich detail.
Saint Peter is shown on the left wearing a long ochre himation highlighted with dark- brown and white striations. An azure tunic richly decorated can be observed below the himation.
He is blessing with his right hand, while his left is holding the model church. Two keys tied to a cord and hanging from his left hand are drawn, having a symbolic meaning.
His face exudes calmness and solemnity. His head is surrounded with a halo decorated with floral motifs in green and red.
Saint Paul is depicted on the right side, wearing a soft-red color himation, rich in pleats and an azure color tunic. He is holding a large gospel book in his left arm decorated with jewels, while with his right; he is holding the model church.
The model of the single-domed church, symbolizes the Christian Church, which the two Apostles considered to be founders. In the middle of the icon, Christ is depicted in bust length emerging through four concentric circles of alternating blue shades.
His hands are widespread open in a blessing attitude. The presence of Christ represents his command to the Apostles to preach the gospel to the nations and become the founders of the church.
A devout inscription of the icon donors is well preserved.
The stylization of the figures along with the iconographic type of the icon, suggest a 17nth century work.