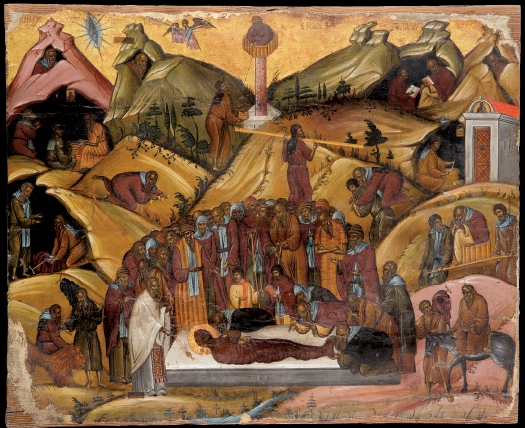 The Dormition of St.Efraim the Syrian

Item ID : 23
Collection Name : Holy Metropolis of Zakinthos and Strofadon
Year : Mid-15th century
Τechnique : egg tempera
Materials : wood
Dimension : 66.3 x 83.5 x 2
Description : This splendid painting follows the iconographic style of hermit saints. The main scene is illustrated relatively in a small scale sitting at the centre of the composition in the middle of a rich landscape. The masterful rendering of the various miniaturist scenes that fill the composition are combined in exceptional way. The structure of painting reveals the artist's affiliation to the early western stylistic tradition.
The dead body of the saint is depicted on the lower part of the panel laid down on a white marble base.
His shrouded body is surrounded by figures of the monastic community in attitudes of prayer, showing emotional complexity and confusion. In the sky an angel carries the soul of the diseased toward Chirst Emmanuel, who appeared in an eight-rayed mandorla (glory). In this respect everything is presented in a moderate manner that suits the ascetic way of life.
The subject of the desert fathers emerges from in the thirteenth century, redefined from the Cretan iconographers who ideally combine the Byzantine stereotype with Italian elements of painting.