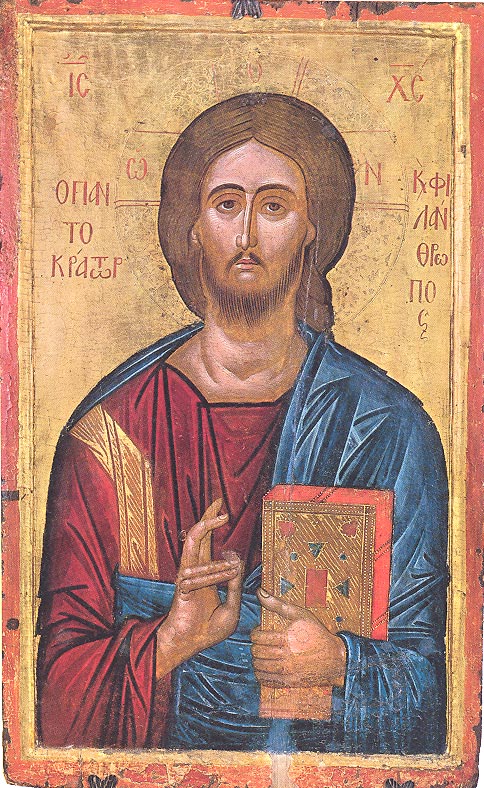 Christ Pantocrator and Bountyful

Item ID : 229
Collection Name : Metropolis of Mytiline, Eressos and Plomari
Year : 16nth century
Dimension : 155Χ 71Χ 4
Conditions : Very good
Current Place : Church of Sts Theodore, Mytilene.
Description : Christ is portrayed against a gold background, from the waist up, full-face, as the figure of the Pantocrator . He wears a dark red tunic with a clavus and a blue cloak. He gives His blessing with His right hand above His chest and His left hand holds an oblong closed Gospel book, decorated on its binding with ivy leaves in the corner of its rectangular frame and triangular stones forming the arms of a cross in the middle. His head is surrounded with a halo, which has on the arms of the cross which it contains the letters O QN. The halo is defined by three dotted circles and is richly decorated with dotted flower designs which cover its whole surface, with the exception of the arms of the cross. Christ is shown with long hair, almost in¬visibly parted in the middle, falling in waves to His left shoulder, a drooping moustache and a short sparse beard modelled with widely-spaced broad brush strokes in brown.
His gaze is penetrating and severe, but at the same time reflects gentleness and a love for mankind. The face suggests inner illumination and spirituality. The whole figure is imposing and its powerful presence gives the impression that "He holds all things and contains all things". Attention is called to these features by the inscrip¬tion in red capitals to the left and right of His head: "THE ALMIGHTY AND LOVER OF MANKIND". In the top corners of the icon, also in red letters, the monogram IC XC can be seen.
The way in which the face has been executed with soft pink skin on top of the brown modelling, the minimal highlighting of the forehead, below the eyes, on the nose and on the beard, together with other characteristics, lead to a dating to the 16th century.