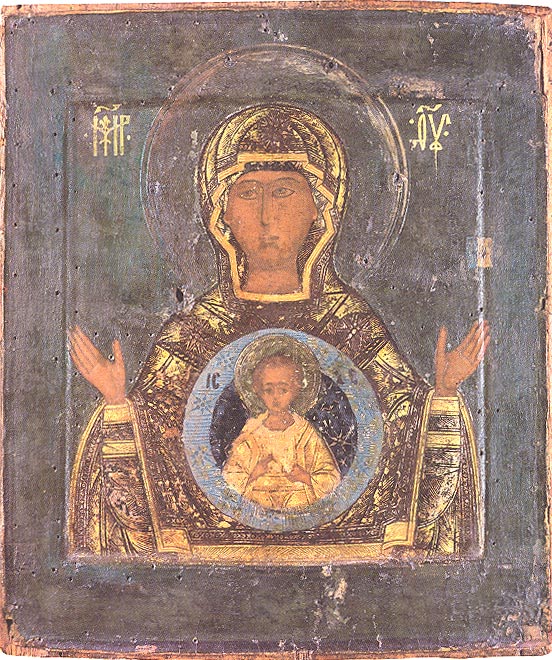 Virgin Mary "Platytera"

Item ID : 223
Collection Name : Metropolis of Mytiline, Eressos and Plomari
Year : 16nth century
Dimension : 31 x 39
Conditions : Very good
Απόκτηση : Δωρεά
Description : Virgin Mary is depicted centrally following the iconographic type of "Platytera", waist length, and frontally addressing her gaze directly to the viewer. She represented on a single panel hollowed out so as to form a narrow raised border.
Virgin is depicted against a greenish background, wearing a dark wine- red maphorion adorned with geometrical motifs and gold striations.
Both her arms are outstretched in the orans position (with the elbows close to the sides of the body, the hands outstretched sideways and the palms pointing the heaven).
Within a round sky blue mandorla decorated with white linear motifs, is the image of Christ Child, depicted upon her chest. Flanking his nimbus is the monogrammatic inscription IC XC finely contoured. Christ Child is presented in bust length and in strictly frontal position.
The symmetrical composition is well balanced exuding serenity and harmony. The stylistic features of the icon reveal Russian craftsmanship and subtleness dated around the 16nth century.