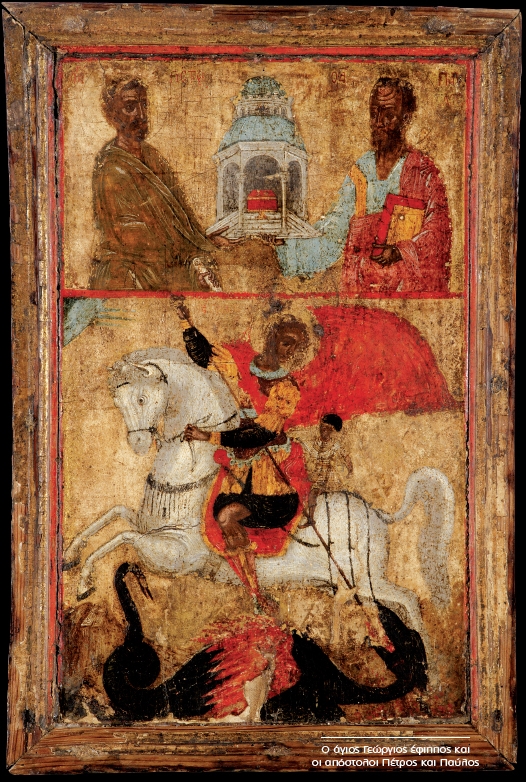 Saint George on Horseback with saints Peter and Paul

Item ID : 22
Collection Name : Holy Metropolis of Zakinthos and Strofadon
Year : Second half of the 16th century
Τechnique : egg tempera
Materials : wood
Dimension : 61 x 40 x 3.5
Description : The paint is a two-tiered composition, arranged in bands of different height. On the upper scene saints Peter and Paul are depicted. They are painted standing facing slightly each other holding a model church in which the Holy Table is painted in red. This representation of the two Apostles and founders of Christianity is emblematic and the iconographic scheme was very popular during the 15th to 18th centuries. This motive of painting and the individual elements displays exceptional style that is attributed to the Cretan iconographer Aggelos. The creation of the depiction of the two saints embraced and kissing each other is an art- work of the same painter.
The lower register depicts an episode from the life of Saint George –the killing of the dragon that was menacing the city of Alaghia. The saint is shown riding a white horse wearing a military dress and a red cloak. He pierces the winged dragon with a spear.
On the horseback a child which is assumed to be a prisoner of war is displayed.
The integration of western components (Venetian) art that were incorporated by the Cretan iconographers is largely adhered and well-conceived in the stylization of the icon.