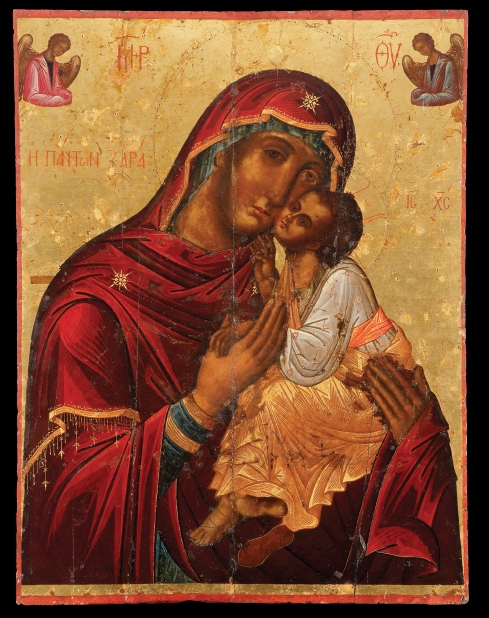 Theotokos

Item ID : 19
Collection Name : Holy Metropolis of Zakinthos and Strofadon
Year : 15th century and late eighteenth (1836)
Τechnique : Egg tempera
Materials : wood
Dimension : 101 x 77, 5
Description : The Virgin is in the center of the painting, depicted frontally and bust length. Both the Christ Child and Theotokos are represented full face and turned towards the viewer. The Mother of God holds the Christ Child on her left arm and points to him in a gesture of presentation.
She bends her head towards His, and touching each other on the cheek. Mutual gestures of loving kindness between Theotokos and the Christ Child are tenderly depicted in the The Christ Child blesses with his right hand with a broad majestic gesture of benediction. A simple unfastened sandal slips off His left hand as he recoils his future Instruments of Passion. This detail is employed by the Cretan school (15nth century).Two small-scale angels are depicted on either side of the Virgin's head.
A faithful replica of the icon can be found in a fresco at Saint Vasilios church that is located in Patmos Island. Despite to the non coherent restoration of the icon in 1836, the original work of the artist's visualization of the theme remains intact.