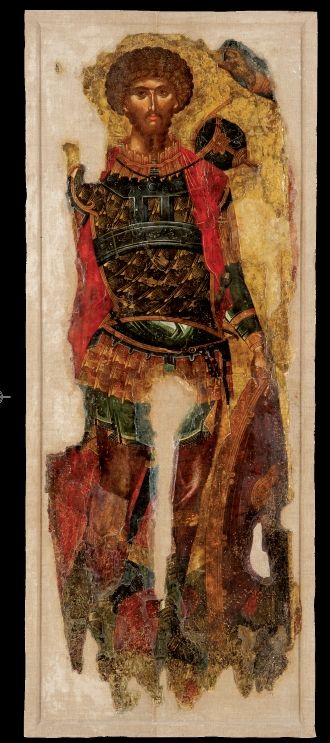 Saint Theodoros the Stratilatis (Commander)

Item ID : 18
Collection Name : Holy Metropolis of Zakinthos and Strofadon
Year : Fifteenth Century (15 A.C.) second half
Τechnique : egg-tempera
Materials : wood
Dimension : 149x58.5
Description : Part of the icon is destroyed. The center part though is preserved in good condition. Saint Theodoros is depicted full length and front facing against a gold background. In the upper right corner, the Hand of God hand is emerged.
The saint is wearing military uniform with armor (chained pallium, plastron, breeches and red mantle over his shoulders). With his left hand he is holding a shield.
With his right hand, although the painting is deteriorated, it is believed that he holds a spear as usually the military represented saints are.
The iconographic and stylistic characteristics of this icon has great similarities with the religious icons attributed to the workshop of the great Cretan painter (hagiographer) Aggelos, thus is it assumed that the icon is his work.
The icon used to decorate the inner area of the holy Strofades church.