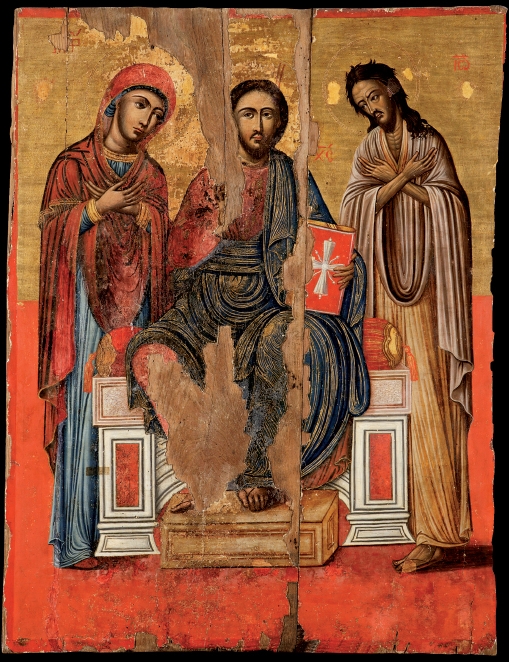 Deisis (prayer)

Item ID : 15
Collection Name : Holy Metropolis of Zakinthos and Strofadon
Year : Eighteenth Century (18A.D)
Τechnique : egg tempera
Materials : wood
Dimension : 85.52x65.5x2
Description : The three figure representation of Deesis composition. In the center of the icon Jesus Christ is frontally depicted seated in a marble throne and rests his feet on a plain wooden footstool. His right hand is held in front of his chest in a blessing gesture, while with his left he holds a closed gospel resting on his thigh. He wears a crimson chiton and a blue himation with golden striations.
He is surrounded by Virgin Mary along with St.Ioannis Prodromos on either side of the throne and a little behind it - a position well known in Cretan art. They are depicted full length on a standing position in a praying attitude and with their hands crossed, as intercessors, pleading with Christ for the salvation of humanity.
The stylistic and iconographic characteristics of the painting are closely affiliated to the 15nth Cretan art stereotypes.